DURING peak seasons like the Langkawi International Maritime and Aerospace Exhibition (Lima), it's hard to find a room in Langkawi as most hotels are fully booked.
But Langkawi, often dubbed The Jewel Of Kedah, has two more additions to its string of accommodations. The first is Kuala Melaka Inn, a budget hotel that's a five-minute drive from Mahsuri International Airport.
Located in Padang Matsirat, the multi-coloured building of Kuala Melaka Inn looks more like a shopping complex. Managed by Tema Teladan and Pujaan Pasifik, it was recently launched by its chairman, Tan Sri Mustapha Kamal Abu Bakar. It offers four types of rooms — standard twin, standard double, standard triple and standard family. For a budget hotel, the rooms are unusually spacious. My room is a standard triple with a single, queen-size and sofa bed (for two). And ample space for four more.
All rooms are equipped with television with selected satellit channels, air — conditioner, coffee and tea — making facilities, telephone and hot and cold shower. Due to the floor plan, there are also a few windowless rooms.
The 69-room hotel has a spa, restaurant, rooftop food stalls, a convenience store that's open until 11pm and several to-be-opened outlets. The convenience store stocks toiletries, soft drinks and snacks as well as a wide range of products specifically for tourists from the Middle East.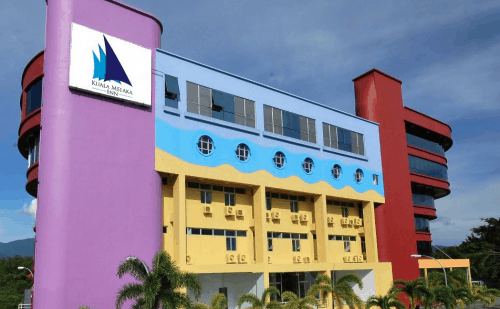 Kuala Melaka Inn - Welcome to the new world..